Rooftop gardening is a concept of the garden on the roof of a building. Rooftop gardening is a man-made green space on the topmost levels of the house, commercial, and industrial structures. They may be designed to grow flower plants, veggies, green plants, and also provide a play area. You can make shades and shelter for sitting too around the green area.
In urban areas, people don't have much space for gardening but rooftop gardening is an ideal way for an urban gardener to expand their space. And best thing is that you can use unused space for rooftop gardening.
Before starting rooftop gardening, few things you should keep in your mind. That we are explaining here in the further article, stay with us.
How to prepare your roof for rooftop gardening?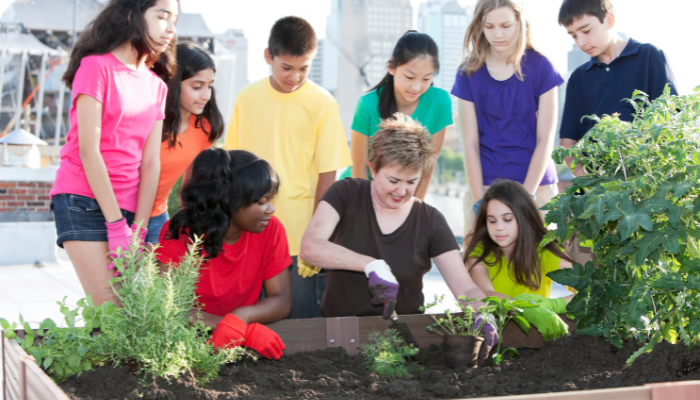 There are many ways to make a rooftop garden. You can start with planting small plants in big or small pots, build raised beds, or can cover some area of your roof with a soil bed. You can create any style of rooftop garden with potted plants and you can grow herbs in that or beautiful flowers or any vegetable for your use. Usually, containers are perfect for rooftop gardening because they are available in many different sizes. You can choose them according to your space, they are also light in weight, flexible, portable, and affordable.
Now, we are going to tell you about the layers that you should install on your rooftop before planning a fully covered rooftop gardening.
Waterproofing Layer
This is the first and most important step before starting rooftop gardening. Make waterproof your roof where you want to make the garden to prevent any leakage. The roof must be frost-resistant, durable, and waterproofed to plant your greens. Particular that area, where you are thinking of planting your green plants on the roof.
For that, you can install plastic sheets or can-do polymer coating to make your roof water-resistant. Or you can consult with the professional to get an expert opinion on this.
Protection Layer
Before starting rooftop gardening, give mechanical strength to your rooftop. Moisture resistance and temperature control are a few of the multiple benefits provided by the protection layer. Insulation layers can be made of PIR panels, polyurethane foam, or XPS extruded polystyrene boards.
PIR panels are best for the rooftop garden as they allow the rainwater to swiftly pass through the drainage system. The protection layer would provide long life to your rooftop garden and it will keep away all worries.
Drainage System
A proper drainage system is also very important for rooftop gardening. Because a good drainage system will remove all saturated water as quickly as possible. And also, it will quickly discharge the excess water from the plantation layer and the rooftop.
You can also use drainage materials for your rooftop gardening such as porous mats, lightweight plastic sheets, granular materials, or polystyrene drainage modules. These all things can soak the extra water and will keep your roof dry and clean and will also give a beautiful ambience to your rooftop garden.
Maintain Privacy
if you lived in an urban area then your rooftop must be surrounded by neighbouring buildings. Hence, your rooftop garden would be in full view, so you can think about the screening to maintain privacy. You can run vines up the trellis wall and can install fibre sheets to cover to walls of your roof.
These all things are very necessary for rooftop gardening. It will make your rooftop garden more organizable and hassle-free. If you are still thinking about a rooftop garden, we can give you more reasons to consider that.
Rooftop gardening can be done on the unused space.
They make your environment more beautiful.
Your plants get good sunlight and can grow more beautifully.
They will also get rainwater, which is also very good for the plants.
And most important, there is no fear of trespassing of rabbits and any other animal.
After all, things you need to know about rooftop gardening, now we will share some ideas of rooftop gardening with you. These ideas can be more helpful for you, keep reading.
Some ideas of rooftop gardening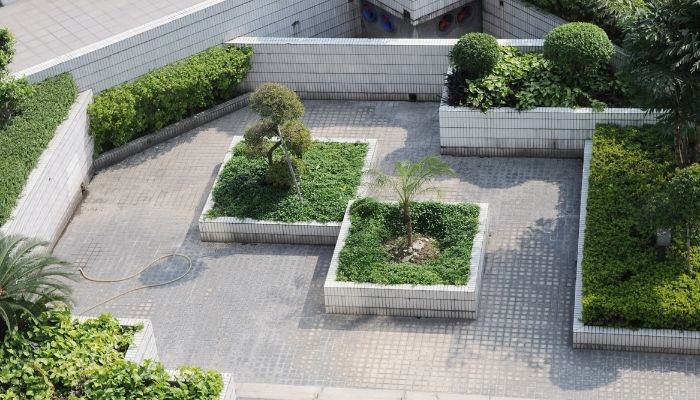 Can grow tall plants and trees
If you have a large area on the roof and you want a real and beautiful garden look then you should consider some big and tall plants for that. You can do high vegetation around the walls to maximize greenery. Bamboos and grasses are a nice combination and this is also low maintenance. You can add plants according to your space. Can grow herbs, shrubs, flowers, veggies, fruits, and many more thing in your rooftop garden.
Create raised beds
Creating raised beds adjacent to the walls of your roof is a nice idea to consider. You can install wooden or metal raised beds, which are available in the market. On them, you can grow small trees and tall shrubs, but they will need regular maintenance, root trimming, and pruning. If you don't do that it will not look nice and then your plants will grow in every direction.
But before making raised beds, you should do a waterproofing membrane and lay a thick root barrier. Waterproofing and root barrier can block the roots of plants will prevent the roof from any damages. Or you can make slightly elevated raised beds from the surface of the roof. By using this method, raised beds do not touch the surface and roots of the plants may not be able to go down in the surface.
Choose plants carefully
If you want to maintain your rooftop garden, then you should maintain the diversity in the sizes of the plants. You can keep there some shrubs and small trees, few large plants, ground covers, and some scented flower plants. Also, you should buy some different sizes of containers for your plants. It will give a beautiful look and a pleasant view of your rooftop garden.
Furniture for roof garden
When you add some furniture to your rooftop garden, it will give you a nice sitting place to spend some time with your beautiful plants. And also, will add some beauty to your garden. You can think to make a lounging area there or you can place a dining table for having dinner with your friends and family. A piece of nice furniture can add style to your rooftop garden.
Can make a focal point
 To embrace the beauty of a rooftop garden, you can also make a focal point there. It will attract the eyes of yours and your guests. Because every special corner or point always draw attention. For that you can place a water fountain, water feature, indoor vine plants, bonsai, tall tree with attractive pot, any statue, etc. if you make any focal point in your rooftop garden, it will make it more beautiful that space.
Do beautiful lighting
Lighting is also a very important thing to consider while making a rooftop garden. Because when you go there in the evening, your roof garden must be well-lit. Especially near the door, stairwell, sitting area, and around the focal point. Lighting can extend the hours of enjoyment in your rooftop garden. Bright spots will add beauty to your rooftop garden during the evening time. And good and proper lighting will make your roof's look larger.
Don't use too many colors
Do not add too many colors to your rooftop garden. Pick one main accent color for the overall interior and one or two colors can choose for the rest to add some diversity to your rooftop garden. Using many colors for furniture, walls, floor, railings, or containers will give the too busy look and also can look cluttered.
Go for neutral colors, they will give the best and beautiful look to your rooftop garden. White, grey, indigo, beige are some neutral colors and they will enhance the beauty of your plants.
Can't ignore the flooring of the roof
Flooring is also very important in rooftop gardening. You cannot avoid it. Take advice from the experts about it because flooring must be waterproofing too for your roof. And choose those that fit in your budget and suit the climate also where you live in. And most importantly flooring should be accommodating the theme of your rooftop garden.
Add some colorful flower plants
To make a beautiful rooftop garden, place some colorful plants there. Can keep warm colors and cool colors plant to make a balance and it will also give a beautiful look to your garden. The colors of flowers always create magic and add beauty to everything. Can grow seasonal flower plants, shrubs, foliage plants for a colorful garden. Colorful flowers can transform an urban terrace into a calming oasis.
Bring a bit of wildness
You can hand a feeder on your rooftop to welcome native birds, bees, and butterflies. And also, you can keep their water pots for them. Can choose those plants that provide them food or nest-building materials, also a nice idea to help them. You can visit here for more ideas.
So, that was the all information about rooftop gardening. Go ahead and make your own!!