Don't allow anything as little as a central column or pillar to prevent you from designing the room of your dreams. A pillar's visual impact may be diminished or concealed with tasteful ornamentation that still conveys your own sense of style.
Because of their structural importance, pillars are usually not detachable. An awkward pillar in the middle of the living room may be a pain to work around when arranging furniture and putting the finishing touches on the space's design.
Many creative solutions exist for covering up that unsightly pillar in the living area. The pillar may serve as a focal point in the living room and be used for a variety of purposes, such as a storage unit, a lamp stand, or even as extra seating. To make a pillar seem more at home with the rest of your living room furnishings, you may adorn it with lights, plants, mirrors, and adhesive tiles of varying textures.
#1. Incorporate Shelving into the Pillar for Extra Storage
Adding shelves to a pillar is a great way to make it more functional in the space. The column will blend into the decor of your living area as it was always meant to be there. It will also provide much-needed additional room for storing things like books, potted plants, and decorative items.
#2. Set Shelving or Cupboards Up Against The Pillar.
Instead of drilling shelves into the pillar, you might prop up a preexisting bookcase in front of it. This works particularly well on columns situated close to a wall. The more vertical the bookcase, the more effectively it may hide the pillar.
The space between a pillar and a wall may be put to good use by installing shelves. The addition of a bookcase and a comfortable chair in the space between the pillar and the wall will make for a wonderful reading nook.
#3. Displaceable Shelves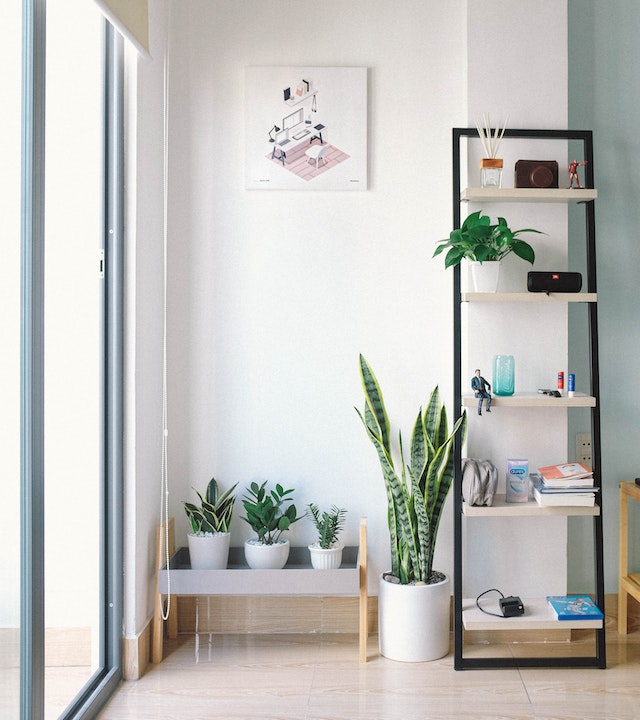 By installing floating shelves on the pillar, you may make it seem like it's part of the furniture in your living area. Floating shelves may be found in a wide array of finishes, sizes, and designs to complement any interior. You may place them on pillar-like bookshelves, or you can hang them on all four sides to maximize your storage. They may be easily removed as well.
Smaller, single-mount shelves may be used to accommodate circular pillars that would otherwise be incompatible with a long, straight shelf. They work well as a plant stand, vase stand, or for displaying other small decorative items. If you want to add a quirky, contemporary touch to your pillar, try suspending them in an uneven pattern.
#4. Put Up Mirrors to Make the Room Seem Larger.
An excellent way to provide the illusion of more space and light is to use mirrors. They serve to blend a pillar with its surroundings when installed on top of it. Large, frameless mirrors may be stuck directly onto the pillar to increase lighting, create visual distance, and divert focus elsewhere in the space.
Mirror stickers in geometric forms of varying sizes are another option for making a personal fashion statement. These provide a one-of-a-kind, amusing aesthetic that is simple to adapt to your tastes and complement other pieces of art or furnishings.
#5. To Illuminate, Please Make Use of the Pillar.
Lighten up your living space and reduce the prominence of that pillar. Attempt to use any available floor lighting to illuminate the pillar. You may make a cozy reading nook by setting up a light and an armchair in close proximity to the pillar.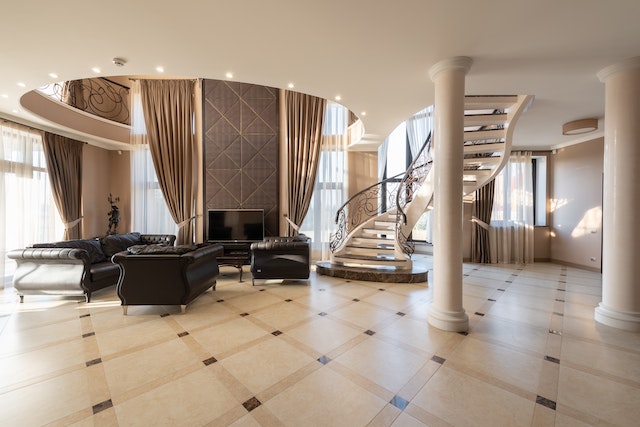 It's also a good idea to hang lights from the pillar, which opens up a lot of design possibilities. For a more refined effect, try mounting wall lights on the pillar. You may also easily create a welcoming atmosphere by wrapping a pillar in your living room with string lights.
LED light strips, which can be bent and shaped, are another alternative. These allow you to adjust the hue of your lighting to suit your disposition. The light strip may be shaped in a variety of ways, including wrapping around the pillar, running vertically up and down it, or creating a whole new design. The potential is enormous.
#6. Combine Work Surfaces, Whether Countertops, Desks, or Tables
A pillar may be made to seem like it is part of the furniture in your room by placing a desk or tabletop against it. You may save space by placing your workstation close to a pillar and mounting shelves on the wall around it.
In an open floor layout, if the pillar is near the kitchen, you may add a counter there. After that, you may install hooks on the pillar to turn it into a pot rack, utensil holder, or spice holder.
The column may also serve as the focal point of a dining setting with seats arranged around its circumference. The top may be mounted at standard dining-table height, or raised to bar height with the addition of chairs. Everyone who enjoys hosting gatherings will benefit from this choice.
#7. Circular Pillars
Place a circle couch around your pillar to give it a quirky, vintage appearance. Look for couches or other seats that may be easily arranged into a circle around the base of the pillar.
Finding and affording modular furniture that is a precise fit for your area may be challenging. Make your own by arranging the seats yourself around the pillar. Throw blankets, pillows, and cushions on the benches will make everyone feel more at home.
#8. Make a Playroom for the Kids
A pillar may be transformed into a child's dream play structure by any parent. Your children will cherish their own quarters. It will be far simpler to keep an eye on them in the living room than it would be to do so outdoors while they play with helium balloons.
Paint the base of the pillar blackboard paint and you've got yourself hours of entertainment for youngsters and adults alike. If you want to make learning and having fun even more of a priority, paint a second piece with magnet paint and utilize magnet letters or puzzles.
Toys may be stored neatly and off the floor by hanging storage bins from the column or by using floating bookcases. In addition, if the pillar is close to a wall, you can attach a blanket or curtain to it using a wall hook, and then drape it over the wall to make a wonderful tent that kids will enjoy to play in!
#9. Set Up a Bar by Placing a Bar Cart and Some Lights
You can transform your pillar into a sophisticated bar with the help of a bar cart, some inventive lighting, and some tasteful décor. Prop the bar cart up against the support beam and load it up with your preferred libations, glasses, and maybe even a cocktail set.
The space above your bar cart is begging to be decorated. You may make your home more welcoming by decorating it with mirrors, lights, artwork, plants, or anything else that reflects your own taste. The place may be accentuated and given an individual feel with the help of a personalized neon sign.
Conclusion
The columns and pillars in your house may be decorated in a variety of unique ways. Follow the aforementioned advice and use your imagination to transform that unsightly pillar into a design focal point.