Bathrooms are the most used space in your home. It is one of the essential parts of a home because it is used not only to get ready for a busy day but also to work as a peaceful sanctuary. That is why the surroundings of the bathroom should be according to your liking. So you feel a comfortable hug whenever you step into it.
There are various tiles for bathrooms to renovate your space of calm. But porcelain tiles stand out for their array of characteristics, fulfilling a range of essential conditions. They are robust, look trendy, and don't require a lot of maintenance. But is it enough to get their way into the modern bathroom of your home? We examine that below by grouping the considerations in terms of three key aspects. So, let's read on! 
The practical side of things
While modern bathrooms have come a long way from their secretive or tucked-away life, the practical functionalities remained pretty much the same. From taking a shower to getting ready, bathrooms are an essential element of personal hygiene. Meaning it gets frequented with water, steam, humidity, and such. It goes through the phases of being wet and dry, and so, sturdiness is essential for bathroom tiles.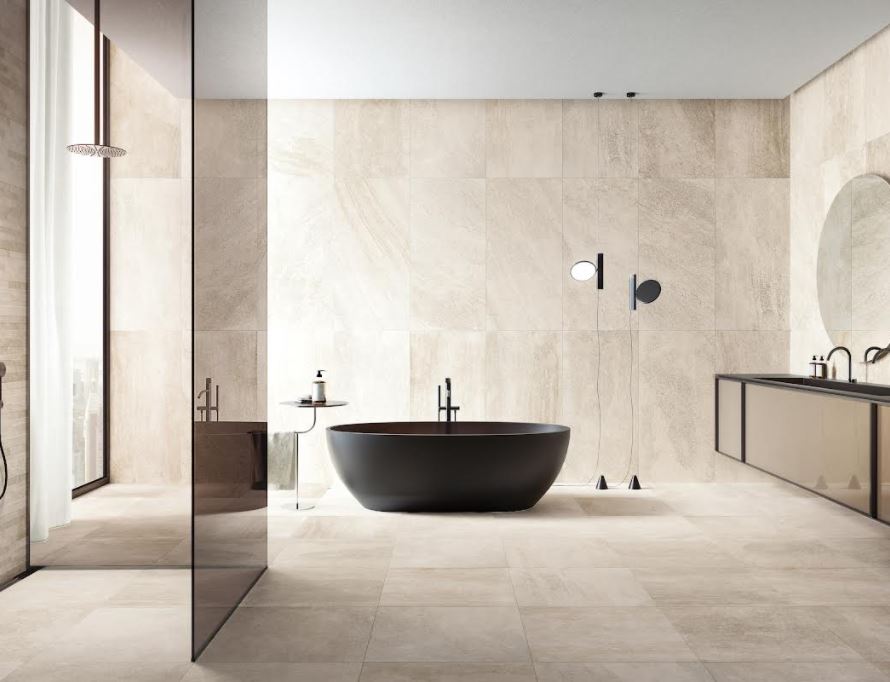 Thankfully, porcelain stoneware tiles are solid and absorb almost no water. They also don't blink under high temperatures or get all shady when it's freezing outside. So you can confidently rely on them to last for a long time. And during their course of life, you won't have to clean and care for them too much.
The aesthetic aspects
Today's bathrooms need to be as trendy and sophisticated as the other areas as they are integral to the modern household. That way, they could blend well with the environment, creating a synergy so adored by contemporary designers.
As tiles for bathrooms are available in numerous designs, they offer the owner a chance to be creative and experiment with things. If you are a minimalist, you can opt for something like graphite or black. For a cheerful vibe, there are tiles with decorative motifs, graphic textures, mosaics, etc. There are also porcelain stoneware tiles authentically recreating the look of woods, metal, stones, etc.
The sensory aspects
Modern lifestyle emphasises a lot on ensuring mental health and personal wellbeing, and rightfully so. Life, these days, can be stressful, and it helps if you have the time and space to switch off from time to time. With porcelain stoneware tiles designed to capture sensual and tactile feelings, bathrooms offer a great option to be your oasis. After all, they are also called the restroom.
Anyways, the trend is to create a nourishing environment that helps relax and get refreshed. With an array of designs that respond and recapture nature's shapes and colours, porcelain stoneware tiles are often the materials of choice for a soft and welcoming bathroom. After all, you can't replace the calming effects of something like wood-look tiles, can you?